TEXAS, DALLAS FORT WORTH AREA; "WALTER"'s Web Page
Anatolian Shepherd (medium coat) : : Male : : Adult : : Large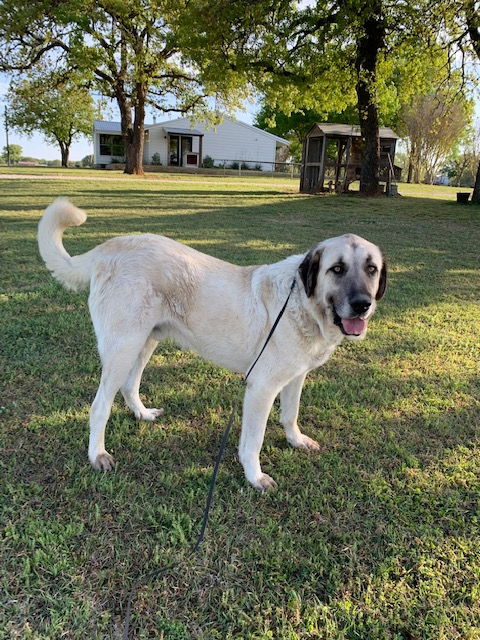 Won't you think about adopting me?
Learn more about the Anatolian Shepherd.
TEXAS, DALLAS FORT WORTH AREA; "WALTER" needs a caretaker or foster! Won't you consider helping him get a new start?
Print an adoption flyer for TEXAS, DALLAS FORT WORTH AREA; "WALTER"!
Please Note: This animal is listed as a courtesy to another organization. Please be sure to contact the foster/caretaker for more information about him.
About TEXAS, DALLAS FORT WORTH AREA; "WALTER"

Status: Available for Adoption (adoption info)
Species: Dog
Current Size: 125 Pounds
Current Age: 5 Years 1 Month (best estimate)

Housetrained: Yes
Obedience Training Needed: Has Basic Training
Exercise Needs: Moderate
Grooming Needs: Moderate
Shedding Amount: Moderate
Owner Experience Needed: Species
Reaction to New People: Friendly
THIS IS A COURTESY LISTING
Meet Walter! He is a super handsome 5 year old neutered male Anatolian Shepherd Dog.
He is healthy, vaccinated, microchipped, heartworm negative and weighs 125 lbs.
Walter was recently adopted, however, he and the alpha female Anatolian in his new adoptive home are not getting along.
He gets along well with their smaller dog and should be okay with female dogs who do not challenge him.
He's been good with the cats, chickens and horses as well.
Walter's adoptive family tells us that he is a sweet and loving dog.
Walter is housebroken, walks on leash and is working on basic commands.
He is good with older children but not evaluated with children under the age of 5.
Transport assistance may be available within 1,000 miles depending on where you live and the availability of volunteer drivers.
This is a courtesy listing. This dog is currently adoptable but is not a part of or associated with National Anatolian Shepherd Rescue Network (NASRN), including NASRN's adoption and/or fostering programs. The information listed for each animal was provided by individual caregivers and was not generated or verified by NASRN. NASRN makes no representations related to these animals . As with all adoptions, NASRN encourages potential adopters to gain as much information as possible before adopting these animals , including but not limited to temperament testing, consultation with a trainer, and consultation with a veterinarian.
More about TEXAS, DALLAS FORT WORTH AREA; "WALTER"
Good with Dogs
,
Good with Cats
,
Good with Older/Considerate Kids Only
,
Good with Adults
,
Somewhat vocal
,
Requires a yard
,
Leashtrained
,
Intelligent
,
Even-tempered